The use of CBD oil for pets is growing among pet owners, largely due to human pet owners experiencing the therapeutic benefits of CBD for themselves. The close relationship humans have with their pets has led to enthusiastic interest in the promise of CBD oil to treat health issues in pets.
Cat owners, aware of the success of CBD oil for dogs, have tried CBD for their cats as well. They'd like to help their pet's symptoms become more manageable, but the medicine administered to be safer compared to pharmaceuticals as well. Kitty parents share the concerns of all pet owners about the safety and side effects of pharmaceutical drugs. CBD is mild in comparison, being non-addictive and non-toxic. CBD also compares favorably vs pharmaceuticals for long-term use, with many prescription medications becoming ineffective over the long term. For all these reasons, and of course, simple love for their pets, cat owners have begun turning to CBD.
In this article, we'll look at what CBD oil is, how it functions in the body, and whether it is safe for cats. Let's first clear up some terms, shall we?
What Is CBD Oil?
CBD stands for cannabidiol, which is a compound produced by cannabis plants, in especially large quantities by the hemp strain of cannabis. Cannabis plants produce more than 100 cannabinoids, but most people are only familiar with one or two: CBD and THC—the compound that induces the "high" from smoking a joint. Though CBD is generally safe for animals, having been used successfully on horses, elephants and other animals besides, THC can be "toxic" for animals. Pet owners would be well advised to purchase products with less than 0.3% THC, the level found in full spectrum CBD oil. Most pet products contain no THC, and are made with 99.9% pure CBD isolate.
Small animals can be extremely sensitive to THC and even small amounts can get them extraordinarily high. Anxious pets could experience panic attacks, vomiting and other unpleasant sensations.
CBD oil is made by extracting the CBD cannabinoid from cannabis plants and suspending it in a carrier oil, like MCT oil, coconut oil, hempseed oil, olive oil grapeseed oil and others.
CBD affects cats through interactions with their endocannabinoid systems, just as in humans.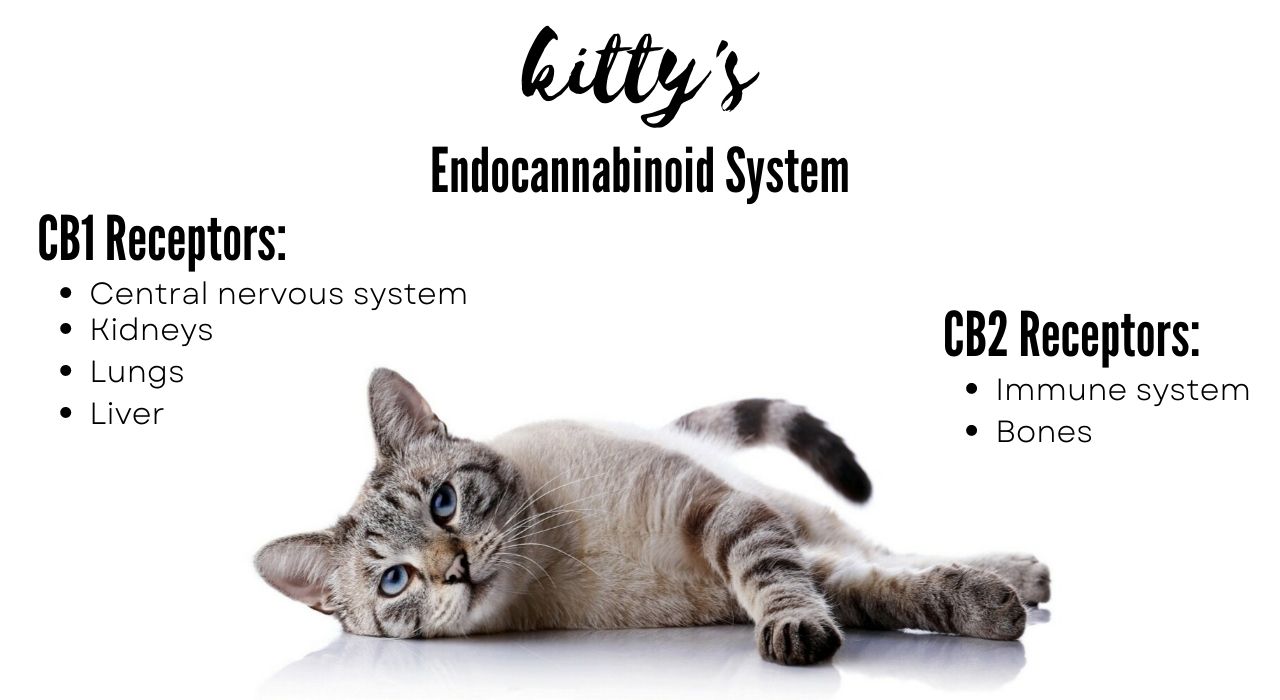 Is CBD oil the same as hemp oil?
Hemp oil and CBD oil are both derived from the cannabis plant, but they are very different.
Hemp oil is made from the seeds of the plant, whereas CBD oil comes from the flowers, leaves, and stems of the plant. Both oils offer numerous health benefits, and neither contain enough THC to endanger your cat. CBD oil has virtually no THC – less than 0.3 percent, and hemp oil contains no THC, or CBD, at all.
Is CBD safe for cats?
We know more from experience than actual scientific research that CBD oil is safe for cats. Those cat owners that have tried it, as well as some veterinarians, report positive results. Side effects that have so far been reported include drowsiness and tummy problems, and are overall rare and mild.
However, it's important to note that cats don't process medications in the same way as dogs. One study of the use of CBD in dogs and cats found that it was safe for healthy dogs and cats, but that cats react differently to CBD – they seem to absorb CBD differently and show fewer reactions when the CBD is administered.
Does CBD work for cats?
CBD can be helpful in at least two ways for cats.
Promoting mobility: CBD is known for its anti-inflammatory properties. As cats get older, they may get stiff and move around in discomfort. Administering CBD oil may help your elderly cat to stay mobile longer and to experience less joint pain.
Reducing stress and anxiety: Some cats have a highly strung nature and might need some help to calm down. Cats can also become stressed under certain temporary conditions like when you move to a new home or have a new addition to the family. Depending on the cat's nature, a dog in the vicinity can also be a source of constant stress.
CBD oil may help with your cat's anxiety and does not cause harmful side effects.
Common questions regarding the use of CBD oil for cats
Can I use my CBD oil for my cat?
That's a common question that occurs to many cat owners. However, as with any medication, it's best to give your cat a CBD product specially developed for cats. Humans and cats don't metabolize substances in the same manner, so different products are needed for humans and cats. Also, your product won't indicate how much CBD would be applicable for your cat. Currently, there is a lack of understanding of what doses are appropriate for treating different conditions in cats.
However, veterinarians have begun taking interest in CBD for cats, characterizing CBD as "generally safe" for cats, according to Dr. Gary Richter, a holistic veterinarian and owner and medical director of Montclair Veterinary Hospital and Holistic Veterinary Care in Oakland, California.
Cat owners should do their due diligence and check a products ingredients to make sure the carrier oil is cat-friendly. Fish oil, hemp oil, coconut oil and olive oil are all safe for cats, for example. Another important thing to check is a products COA (certificate of analysis, sometimes referred to as "3rd party lab tests"), to make sure the product contains CBD and has been dosed properly.
Can I mix CBD oil with my cat's food?
Yes, you can. Mixing it with your cat's food is a simple way to administer supplements and medication. It's certainly easier than trying to administer it directly from the bottle. Most cats will resist such an attempt.
CBD oil does have a strong taste and smell, though, so your cat might resist its food when it's laced with CBD oil. You could try administering it in small amounts with a favorite treat and see how that goes. Mixing the oil into tuna water, or salmon oil, for example, may prove practical.
Can I use CBD oil for long-term treatment?
Actually, CBD oil benefits take a bit longer to become effective. It isn't an instant-impact medicine. Most CBD products for cats are formulated to be taken on a daily basis. CBD takes a while to build up in the system and might only show effects after a month of regular use.
Is it safe to give my cat CBD if it's on other medication?
We know that in humans, CBD interacts with other medications, preventing the metabolization of some drugs in the same way that grapefruit does. In the case of cats, there is no data available on drug interactions yet. It's probably safest not to give your cat CBD if it is on other medication. We'd advise that you get hold of a holistic veterinarian, or other professional, who has experience with CBD to get advice. 
Are CBD products for cats without risks?
This is the million-dollar question. You really have to do your due diligence when you buy a CBD product like CBD oil for your cat. Why?
The CBD market is not regulated. Many products out there are marketed as CBD oil but contain no CBD at all. If you buy a "hemp oil" that claims to have CBD, you may find it contains no CBD whatsover. Hemp oil is made using hemp seeds, which do not contain CBD. There are other issues with how products are marketed as well, so shoppers should always check ingredient lists closely and check COAs. These 3rd party lab tests should show that the product is free of any contaminants and contains the amount of CBD that is stated on the label. Fortunately, most companies are more than happy to provide COAs.
Cats are very sensitive to toxins, and studies have shown that some CBD products are produced using harmful solvents. Make sure the product's COA shows it was tested for solvents and that there are no such solvents in the product.
How to choose a safe CBD product for your cat
It's not difficult to find a suitable and safe CBD oil for your cat. One easy thing to do is check is a company's Google reviews. Here customers leave their remarks on how the product has impacted their health and happiness and whether customer service was good or bad.
The most important piece of information you need on the product label is the Certified Seal of the U.S. Hemp Authority™ or the National Animal Supplements Council (NASC) Quality Seal. These certifications mean that the product was audited and approved by an independent lab, which means it doesn't contain any harmful contaminants.
What's the right CBD oil dosage for my cat?
Here is where the research is insufficient. The FDA currently has no guidance on CBD oil dosage for cats. This means that a cat owner's best bet is to seek the advice of a veterinarian.
Some websites to have veterinarian-approved dosage guidance, and the general rule of thumb appears to be 1 mg to 5 mg for every 10 lbs. of your cat's weight.
Finding the dosage that works best for your cat may require some experimentation. Start with a low dose for the first week or two and increase it by small amount. You can keep increasing the doses by small amounts every week or two until you hit the top part of the recommended range. The most important thing is to observe your pet and keep detailed daily notes. More CBD isn't necessarily better, you need to find the "sweet spot" where the CBD dose is most effective. At the end of your 1-2 month experiment, check back through your notes to see which dosage appeared to give the best results.
From 1 mg/10 lbs., one can steadily increase the pet CBD dosage until the desired result is reached.
Now you're ready to try!
So now you know the basics. Do your due diligence, don't mix CBD with medications, and mix some lab-tested CBD oil into your arthritic cat's bowl of tuna flakes and see if it helps! 
Keeping in mind that there is still very little research that confirms the effectiveness of CBD treatments for cats, it's always a good idea to share your experiences on Google reviews or on the company website to let others know what you've experienced. It's important information people can learn from and adds to the overall anecdotal data.